Everyone knows Fortnite is about building!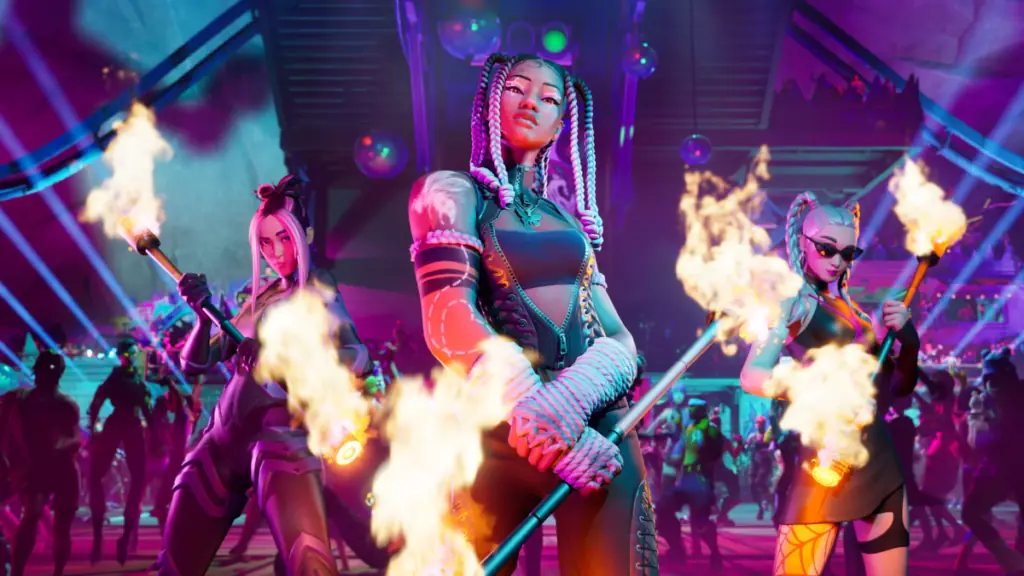 How cool would it be to say you helped rebuild Tilted Towers in Fortnite right now? While everyone may want to rebuild Tilted Towers, not everyone knows how. That is where we come in. The Block is returning for version 2.0. It will have new features and props, as well as some secrets. This is Fortnite, after all. One of the coolest features Epic has confirmed is that the Block 2.0 will allow players to rebuild with their own, unique designs.
How To Rebuild Tilted Towers for the Block 2.0
If you want to rebuild Tilted Towers in Fortnite, they're making it pretty easy. They are taking up to 3 submissions for each building type. Each building type will have its own voting window. The highest voted submissions could potentially end up as locations in Battle Royale and Zero Build. No minor accomplishment. The 3 building types are restaurants, apartments, and shops.
Related: Is First Person Shooter Mode Coming to Fortnite?
So how does it all work?
How Will Winners Be Chosen?
According to Epic, Fortnite Battle Royale and Zero Build level designers (the "Level Designers") will review submissions on a rolling basis and make their selections at their sole and absolute discretion (i.e., the Level Designers reserve the right not to select any content submitted through this promotion). Up to three submissions for each building type (The Restaurant, The Apartments, The Shops) may be selected by the Level Designers to be featured in-game for the community to vote on over a 20 day period. Each building type will have a separate voting window as outlined below: 
The Restaurant : 7/21 8:00 a.m. ET – 7/27 4:00 p.m. ET
The Apartments : 7/27 4:00 p.m. ET – 8/3 12:00 a.m. ET
The Shops: 8/3 12:00 a.m. ET – 8/9 8:00 a.m. ET
Basic Criteria to Rebuild Tilted Towers
Here are the basic criteria for the voting process:
Only one map per creator will be accepted

If you submit more than one map, all submissions will be rejected.

All maps must be original work

If you use real-life references or other external inspirations while creating, please save those references and disclose them to Epic at the time of your submission.

You must use one of the provided templates as listed below:

The Block 2.0 Apartments Template 
The Block 2.0 Restaurant Template 
The Block 2.0 Shops Template

You must design the building on the appropriate template.

Apartment buildings must be designed on the Apartments Template
Restaurants must be designed on the Restaurant Template 
Shops must be designed on the Shops Template

You may only use assets from galleries that appear under The Block 2.0 filter

There are no restrictions on which galleries you use from The Block 2.0 filter for specific buildings. Any assets within that filter can be used for any building type.

When you load your desired template, do not customize any of the settings. 

If you change the settings, your building will be automatically disqualified.

The default height for all templates is set to 5. 

You do not need to build to the maximum height, but you cannot build any higher than 5.

The width and depth of the devices have been preset for each location/template. 

Do not adjust the size of the device's volume.

Submissions must be entirely new work

Any map considered for featuring must be a brand new creation published during the callout period.

You must include a static image of your building with your submission.
No updates will be accepted after you submit your island

Make sure you're happy with your creation before you submit as no revision will be allowed.
Finally, find The Block 2.0 submission: Use the dropdown "The Block 2.0" in the Fortnite Discover Submission form by June 15, 2022, 11:59 pm ET.
When Does Submissions Open
Submissions aren't open yet, but we will keep you up to date on this news as it breaks. We are sure none of you will miss your chance to rebuild Tilted Towers. That would look good on a pixilated resume.